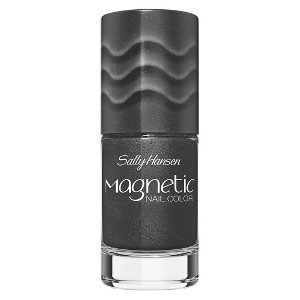 Image via Google
Sally Hansen Magnetic Nail Color in Graphite Gravity
This is the first magnetic polish I've ever purchased. When I first saw photos and ads for magnetic polish, I was not impressed by the designs, and I thought they looked silly. This color was grungy and a cool metallic hue on its own, so I thought I'd give it a go.
*
The instructions seemed simple enough. Paint , paint again, and upon the second coat, hold the magnet over the design for ten seconds. The result left me very pleasantly surprised. I saw a cool chevron pattern, rather than the tacky waves I was expecting. It looked marvelous with all of my outfits as well; a very versatile color and pattern ! It stayed on all week with very minimal chipping and great shine.
I give this polish a thumbs up !